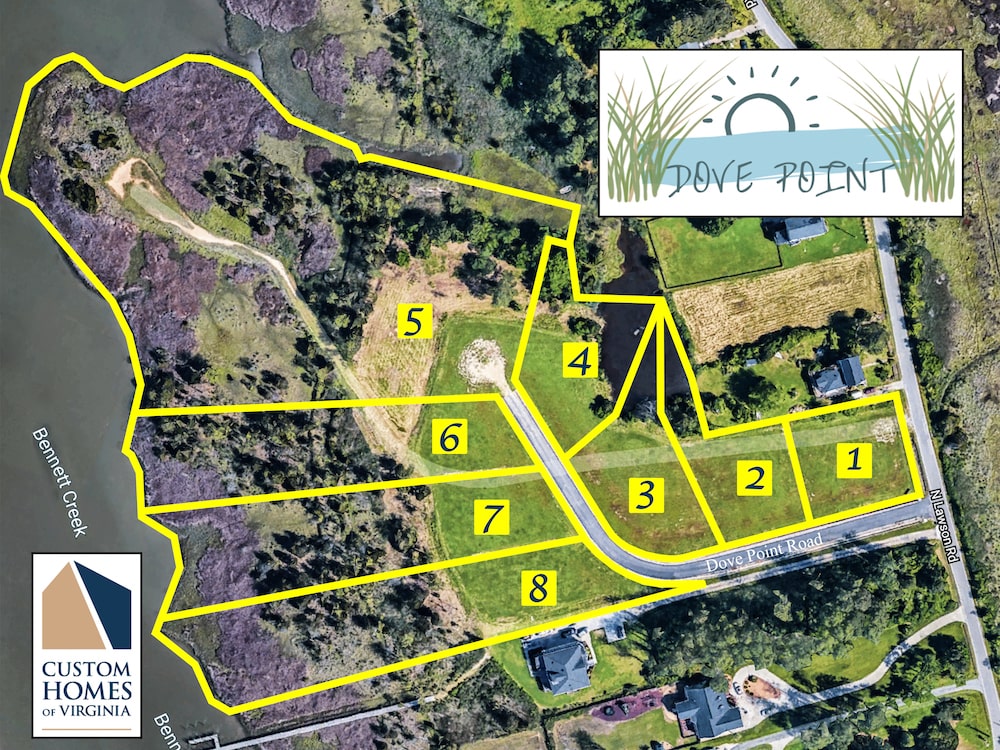 Property Type:

Detached

Area Attractions:

Plum Tree Island National Wildlife Refuge, Poquoson Museum, Eaglewood Golf Course, Thomas Nelson Community College, Historic Yorktown and Williamsburg, Busch Gardens, Poquoson Seafood Festival.

Schools:

Poquoson Elementary School, Poquoson Middle School, Poquoson High School.

Military Bases:

Langley AFB, Fort Eustis, Coast Guard Training Center Yorktown
Overview
Informally known as "Bull Island", Poquoson is home to Custom Homes of Virginia's newest community, Dove Point. Poquoson is one of the oldest cities in the United States and is award-winning for being one of the greatest communities to live in. While Poquoson is a city, it has all the charm and hospitality of a small town. Most notably perhaps is the annual Poquoson Seafood Festival that is a highlight of the fellowship, culture, and of course seafood that Poquson is known for!

Dove Point residents are allowed the best of Poquoson and the rest of Hampton Roads! Waterfront homes are available for those who want quick and easy access to Bennett Creek which flows into the Poquoson River. Dove Point residents can also enjoy modern day conveniences, which are all less than 10 minutes away yet still enjoy the serene coastal lifestyle. Conveniently located on the Peninsula, military personnel can enjoy an easy commute to Langley Air Force Base, and Fort Eustis.

Experience lifestyle and the best days for you and your family with Custom Homes of Virginia in Dove Point. Custom Homes of Virginia believes that everyone deserves to live in a well-crafted home with high quality features and finishes.

Whether you are looking to relocate, downsize, or upgrade; let's make your homeownership dreams a reality!
Did you find your future home?
Call us at (757) 774-5818 or contact us by filling the form below for more info.