Sandy Creek
Choosing Sandy Creek Estates opens a world of opportunities.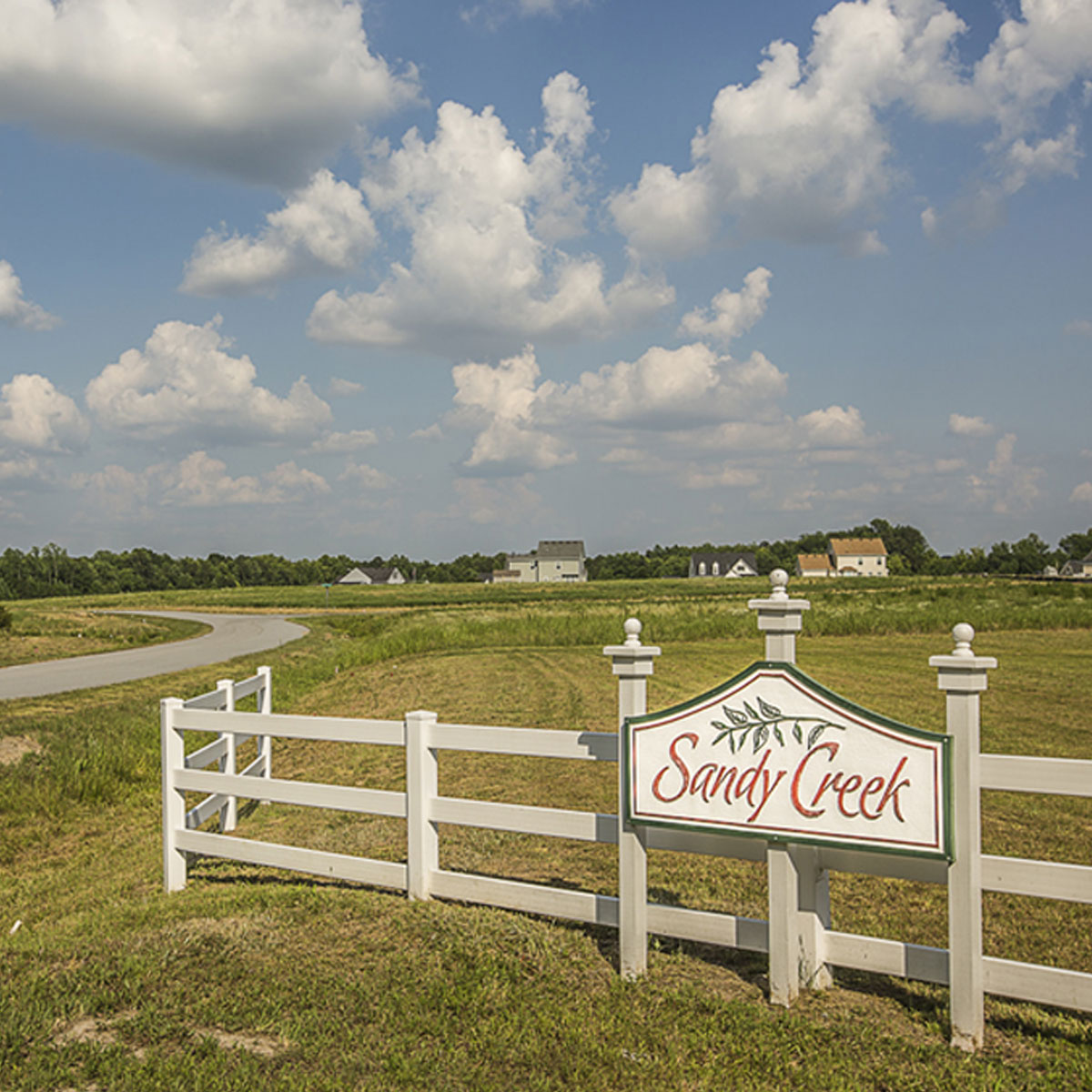 Property Type:

Detached

Area Attractions:

YMCA, Paul D. Camp Community College, Fred's Diner, Downtown Historic Franklin

Schools:

Southampton High Southampton Middle Riverdale Elementary
Overview
Have you looked at new construction models and found they are just out of your reach? We have an option for you! Sandy Creek Estates is a new construction community just beyond the larger Hampton Roads area. A short commute takes you to the quiet community of Franklin Va where lots are larger and prices more affordable.
You can custom build a home with options including granite countertops and large islands in custom kitchen designs. Hardwood floors with open floor plans and cathedral ceilings. If first level master bedroom is your desire, we offer plans that include a large ensuite and spacious walk-in closets. You can choose other options like a screened in porch to enjoy the beautiful nature that surrounds you. Check out our models to plan the house of your dreams.
Choosing Sandy Creek Estates opens a world of opportunities. The Franklin community has so much to offer. Located just off of Hwy 58, this vintage town sits on the edge of the Blackwater and Nottaway rivers. On any given day, you can find gatherings in this welcoming town. Live concerts in the park right on the Blackwater river, weekly farmers' market in the town center, and antique car shows right on Main Street are just a few of the regular events offered in this quaint community.
WFranklin is a fresh blend of the old and the new. Equipped with all the modern conveniences of commercial establishments; grocery stores, movie theater, car dealers, etc. Franklin also offers the sweet charm of local shops in restored old town buildings with cotton candy colored awnings brightening the main streets. Families will enjoy the state-of-the-art YMCA. The 25'×75' heated indoor swimming pool is available year-round, as well as an outdoor pool, tennis courts, and gymnasium. Southampton Memorial Hospital is locally run and provides convenient quality medical care. Education is a readily available with 5 higher education campuses all within a 60 mile radius. The Paul D. Camp community college is located right in Franklin.
If you're looking for a fresh start in a new home, call us today to get your dream home started!
Models Available in this Community
Did you find your future home?
Call us at (757) 774-5818 or contact us by filling the form below for more info.